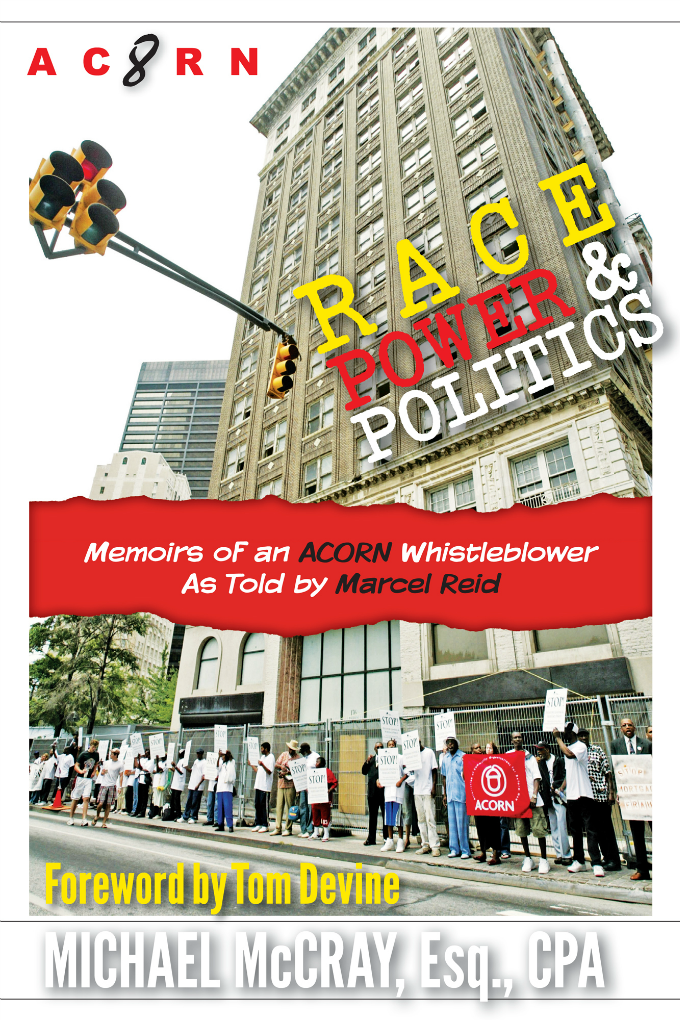 RACE, POWER & POLITICS
The only book of its kind, ACORN 8: Race, Power & Politics--Memoirs of an ACORN Whistleblower is a cautionary tale of corruption and deceit within the Association of Community Organizations for Reform Now (ACORN). Eight courageous low-income community members refused to drink the Kool-Aid within the Jones Town, cult-like association and challenged Wade Rathke, a Jim Jones-style leader, and the entire ACORN establishment.
For several decades, ACORN ran campaigns across the nation seeking fair, affordable, safe housing and other desirable social justice goals for the dispossessed. The group's style tended toward the confrontational, making demands of powerful corporations and government agencies until change occurred, city by city, state by state.
Michael McCray, a certified public accountant and lawyer, became deeply involved as an ACORN national board member. What he saw and heard shocked him, so he became a whistleblower, a role he had previously assumed as U.S. Department of Agriculture employee. His whistleblowing there had cost him his job, but had not dulled his desire to set wrongs right.
This quintessential American story is told from the unique perspective of actual ACORN leaders and National Board Members; learn the real inside story of ACORN from the ACORN 8--the credible ACORN whistleblowers. ACORN 8: Race, Power & Politics includes a powerful foreword by internationally revered author Tom Devine one of the nations leading whistleblower advocates and Legal Director for the Government Accountability Project.
McCray collaborates with Marcel Reid an African American woman who became an ACORN national board member before McCray and fought what she saw as Caucasian paid-staff domination at the top, with the members viewed as dispensable and interchangeable. While Race, Power & Politics—Memoirs of an ACORN Whistleblower features Reid's whistleblowing prominently, the book is primarily McCray's story, not Reid's. Marcel Reid's.
The book's villain is Wade Rathke, a brilliant Caucasian community organizer with roots in Little Rock and New Orleans. McCray, Reid and other ACORN members allege that Rathke and his inner circle, including family members, ran the organization as a dictatorship, for power and monetary enrichment. The book also addresses the subject of the massive Service Employees International Union (SEIU), with McCray alleging that union leadership took advantage of ACORN members through an arrangement with Rathke.
McCray covers the rise and fall of this fascinating organization written in a provocative "you are there" style that provides much detail about Rathke and other ACORN staffers. His unique point of view and writing style, results in a surprising but exhilarating reading experience overall. This riveting memoir traces ACORN and SEIU roots from the civil rights and labor movements all the way to Occupy Wall Street including the historic Democratic primary contest between Senators Hillary Clinton and Barack Obama.